All homes have several HVAC appliances that work continuously and extensively to maintain comfort. As the owners, you should take proper care of them for your comfort and safety. Delta T Heating & Cooling, LLC is always willing to help you take professional care of your appliance at nominal rates.
The Best and Most Reliable HVAC Company
You can find numerous HVAC companies in Kansas City and surrounding areas. Choosing the right company for your purpose is extremely important. Here are some signs of a trustworthy HVAC company for your help:
They know almost everything about the model in your home and other models available in the market.
They are near your surroundings or can visit you when you call them for emergency services.
They put more emphasis on transparency and honesty.
The contracts they offer have no hidden terms or expenditures that you may have to pay later.
Delta T ensures to follow through with all these points, to live up to our reputation as the best HVAC company.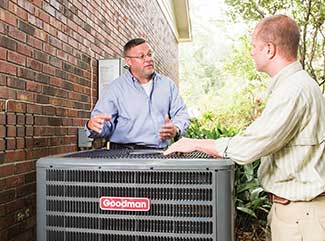 When you need air conditioner repair in Kansas city job at least once in each working cycle, and it is completely normal. However, things get doubtful when a newer air conditioner demands more repair jobs each month.
It would be best to note how many repairs your air conditioner needs each working cycle and how its efficiency increases or decreases after each repair job. A slight difference in the number of repair jobs is no issue, but a huge difference can be alarming.
Allow Delta T to help you understand why your air conditioner needs so many repair jobs. It may be that spending your money on its repair jobs is completely futile for you as one of its components has stopped working. We can help you decide whether you should invest your money in its repair jobs or save money to buy a new system entirely.
Delta T Heating & Cooling, LLC for HVAC 
We excel in both HVAC services, so we are your one-stop destination for all services you need.
Our years of experience have taught us to pay more attention to the details for high-quality work.
We ensure that our work quality does not fall as we grow our network and service areas.
Contact us to know how we work and how we can help you and AC service Kansas City, KS. We give equal attention to all our clients and jobs, big or small.
Below is a list of Cities we service for Air Conditioning and Heating:
Basehor, KS
Gladstone, MO
Grandview, MO
Independence, MO
Kansas City, KS
Kansas City, MO
Lansing, KS
Leavenworth, KS
Leawood, KS
Lee's Summit, MO
Lenexa, KS
Liberty, MO
Merriam, KS
Mission Hills, KS
Mission, KS
North Kansas City, MO
Olathe, KS
Overland Park, KS
Parkville, MO
Prairie Village, KS
Raytown, MO
Shawnee, KS
Don't see your area? Contact us to see if we serve your area
Frequently Asked Questions
What Does HVAC Stand For?
HVAC stands for heating, ventilation, and air conditioning. It refers to the equipment used to regulate the temperature, humidity, and air quality inside residential, commercial, and industrial buildings.
How Can I Find HVAC Contractors Near Me?
To find HVAC contractors near you, you can try the following methods:
Online search
Local directories
Word-of-mouth recommendations
If you need any HVAC services or your system is not working, it's time for you to contact an HVAC contractor in your area. In searching "HVAC contractor near me," you'll find our experts at Delta T Heating and Cooling—give us a call immediately!
What Factors Should I Consider When Hiring an HVAC Contractor?
When hiring an HVAC contractor, consider the following factors:
Licensing and certifications
Experience and reputation
Insurance and warranties
Services offered
What Are Some Common HVAC Problems and Their Potential Causes?
Some common HVAC problems and their potential causes include:
Insufficient Cooling or Heating: This could be due to a malfunctioning thermostat, a clogged air filter, a faulty compressor, or a refrigerant leak.
Uneven Temperature Distribution:Problems with air ducts, improper insulation, or issues with the HVAC system's zoning can lead to inconsistent temperature levels in different building areas.
Poor Airflow:Blocked or dirty air filters, clogged ductwork, or a malfunctioning blower motor can restrict the airflow, reducing efficiency.
Strange Sounds:Noises like rattling, squealing, or banging can indicate loose or worn-out components, such as belts, motors, or bearings.
How Often Should I Have My HVAC System Serviced?
The frequency of HVAC system servicing depends on various factors, including the type of equipment, usage patterns, and manufacturer recommendations. However, servicing your HVAC system at least once a year is generally recommended. Regular maintenance helps ensure optimal performance, improves energy efficiency, and prevents potential issues before they become major problems. It is also advisable to have the system inspected and serviced before each cooling and heating season starts. Get in touch with Delta T Heating and Cooling to learn more or to schedule your HVAC system maintenance. We'll ensure your HVAC unit is running smoothly and efficiently!