All homes have several HVAC appliances that work continuously and extensively to maintain comfort. As the owners, you should take proper care of them for your comfort and safety. Delta T Heating & Cooling, LLC is always willing to help you take professional care of your appliance at nominal rates.
The Best and Most Reliable HVAC Company
You can find numerous HVAC companies in Kansas City and surrounding areas. Choosing the right company for your purpose is extremely important. Here are some signs of a trustworthy HVAC company for your help:
They know almost everything about the model in your home and other models available in the market.
They are near your surroundings or can visit you when you call them for emergency services.
They put more emphasis on transparency and honesty.
The contracts they offer have no hidden terms or expenditures that you may have to pay later.
Delta T ensures to follow through with all these points, to live up to our reputation as the best HVAC company.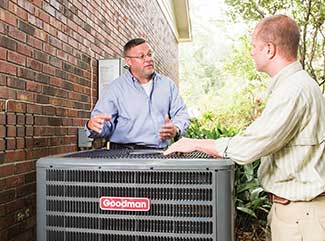 When you need air conditioner repair in Kansas city job at least once in each working cycle, and it is completely normal. However, things get doubtful when a newer air conditioner demands more repair jobs each month.
It would be best to note how many repairs your air conditioner needs each working cycle and how its efficiency increases or decreases after each repair job. A slight difference in the number of repair jobs is no issue, but a huge difference can be alarming.
Allow Delta T to help you understand why your air conditioner needs so many repair jobs. It may be that spending your money on its repair jobs is completely futile for you as one of its components has stopped working. We can help you decide whether you should invest your money in its repair jobs or save money to buy a new system entirely.
Delta T Heating & Cooling, LLC for HVAC 
We excel in both HVAC services, so we are your one-stop destination for all services you need.
Our years of experience have taught us to pay more attention to the details for high-quality work.
We ensure that our work quality does not fall as we grow our network and service areas.
Contact us to know how we work and how we can help you and AC service Kansas City, KS. We give equal attention to all our clients and jobs, big or small.
Below is a list of Cities we service for Air Conditioning and Heating:
Basehor, KS
Gladstone, MO
Grandview, MO
Independence, MO
Kansas City, KS
Kansas City, MO
Lansing, KS
Leavenworth, KS
Leawood, KS
Lee's Summit, MO
Lenexa, KS
Liberty, MO
Merriam, KS
Mission Hills, KS
Mission, KS
North Kansas City, MO
Olathe, KS
Overland Park, KS
Parkville, MO
Prairie Village, KS
Raytown, MO
Shawnee, KS
Don't see your area? Contact us to see if we serve your area